Locations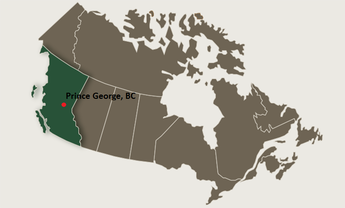 British Colombia is home to the most challenging and changeable conditions in Canada. Our locations are situated in the plateau region where the challenges are mitigated to a point where a novice can be safe while still gaining some experience as to what these conditions can mean for a pilot. Also this means for a student following a longer program; that training can still be conducted efficiently in winter months when most flight schools in the province are unlikely to have many flyable days per month.
Once ready to take on the real challenges of BC; you can
rent our aircraft
and will find yourself perfectly situated at the geographical center of BC to experience all there is to offer.
People training here find the cost of living to be competitive vs global alternatives and those found within BC itself.
---
Prince George, BC:

Prince George has the 3rd longest runway in Canada! We are actually able to do 2 touch-and-goes in one circuit, maximizing your training and minimizing your cost. The airport is not busy at all, we only have some regional carriers, 737`s and 747 Cargo planes. You do not lose any time waiting for take-off on the ground nor traveling to and from our practice areas. Once we clear the control zone we can start with the 1st exercise, just minutes after T/O, where do you get that!? But we still have Ground and Tower Controller so you learn important procedures and radio communications. There are 3 paved and 2 grass runways enabling us to fly in any wind conditions.
| | |
| --- | --- |
| "Guardian Aerospace is an Air Charter Company, Flight Training Unit and Authorized Maintenance Organization that provides value based aviation services with focus on safety and professionalism." | |